Emulsions
Norikop 7 SD
Diazo UV polymer emulsion. All purpose emulsion for water-based, solvent-based and UV inks. Optimal printing quality through high resolution and a broad spectrum of exposure. Powder sensitization.
Get in touch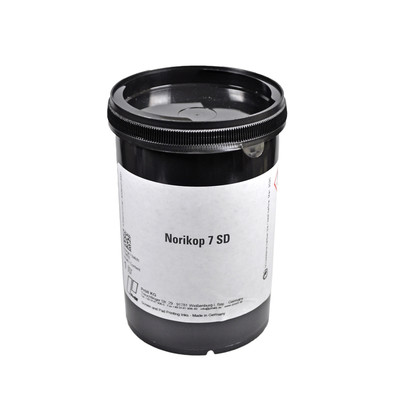 Area of Application
Norikop 7 SD is suitable for the production of water and solvent resistant stencils for high quality requirements. Norikop 7 SD can as well be used for processing UV curing screen printing inks.
Norikop 7 SD is a high-quality diazo-sensitized UV polymer emulsion with 34 % solids.
Norikop 7 SD is used in the following screen printing markets:
industrial screen printing
graphical screen printing / promotion
electronics
ceramics
textiles
Color / Pigmentation
Blue
Sensitized: Green
Handle Norikop 7 SD under yellow fluorescent tubes or low wattage tungsten light.
Further information can be found in our technical data sheets in the Downloads section
PropertiesNorikop 7 SD
Suitable for mesh (threads/cm)
Water-based UV curing inks
Shelf life in month is approx.
Sensitized stored at 5 to 8 °C
Coated screens, not exposed
General DownloadsEmulsions